Hello Sew Dang Cuties! I am so excited to be guest posting here today!
Let me introduce myself!
I am Fawnda from Fireflies and Jellybeans a little DIY blog that I co-author with my best friend Jeannine.
I am a mom to a 2 year old son (who we adopted from Korea about 1.5 years ago!) and a wife to an amazing man! I love all things crafty!
We have all kinds of fun stuff going one at Fireflies and Jellybeans! We have a Show Off Your Stuff Party every Thursday where you can link up your posts that you want to show off!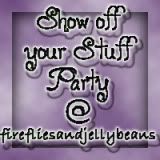 We also have an exciting new competition called the Iron Crafter! It is similar to Iron Chef America where you have to make a craft using a Secret Ingredient. For the first round we are inviting EVERYONE to join in the fun! The secret ingredient is recycled cans. Go Here to find out all the details!!

We also have many great tutorials! Here are a few of our favorites:
Travel First Aid kit


Book Page Wreath

Scrabble Tile Ring

Chalkboard Mugs



Ribbon Bead Necklace


Leg Warmers


Ruffle Butt Onesie with leg warmers for baby

Come on over and check us out at
Fireflies and Jellybeans
We love to meet new friends!
Thanks Tam for letting me invade your blog today! It has been so FUN! :)