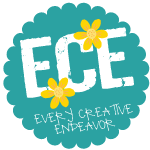 This is one of my favorite blogs. Amanda is a super cute gal and I love her to pieces!!!
Besides actually knowing her in real life and thinking of her as a friend, she is also my sister-in-law (she's married to one of my brothers).
She's one creative woman and I always look forward to what she'll come up with next.
She and her husband have completely remodeled their house, and having seen the house IRL both before and after, I am astounded at the remarkable improvements!
You can see the changes the moment you walk through the door, starting with the
entryway
.
She's been posting all the rooms in segments, so you'll have to go check out some of the others.
See that little bit of
red furniture
at the bottom of the after picture? It's probably one of my favorite furniture refinishings.
Have you seen all the Envirotex resin projects popping up everywhere around blogland?
Amanda was one of the first I saw to post projects made with it – like in March of 2010. She made some
Glazed Wall Art
for her bathroom and they are stunning!
So if you haven't already, click on over to
Every Creative Endeavor
and start reading one terrific blog (plus you all want to see what project I'm guest posting, right?)