This is a Sponsored post written by me on behalf of Avocados from Mexico for SocialSpark. All opinions are 100% mine.
I don't know about you, but where I live it is full-blown soup weather. One of my favorite kinds of soup is Chicken Tortilla. I've tried at least a dozen different variations of this soup, and have finally found the BEST one.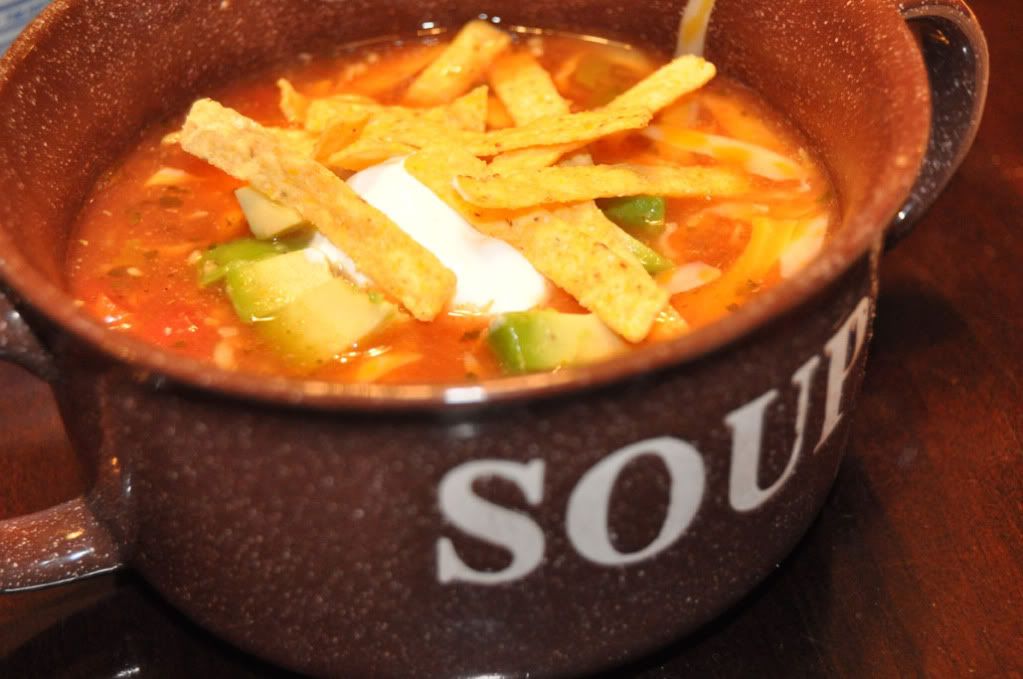 Seriously delicious!!!
Want to know what seals the deal in making this soup irresistible?
The pieces of diced avocado.
Now I'm all about eating avocado. I love it!
However, sometimes kids aren't as excited to eat something GREEN!
Did you know that avocados have the vitamins and nutrients essential for child development and growth?
Just 3 slices gives you potassium, fiber, folate, vitamin C, E, and B-complex vitamins that support memory and brain function.
As a mom, this is fabulous news so I try to give my kids avocados whenever I can. Hence adding them to the soup. Should we give it the test?
The result? So good that she's going back for seconds!!!
Of course, when speaking of avocados who can forget guacamole?
This is an absolute FAVORITE in our house!
Can't get enough! Yum!!!
Here are both recipes.
Chicken Tortilla Soup
2-4 boneless, skinless chicken breasts, cooked and shredded
3-4 garlic gloves, minced
(2) 14 oz. cans chicken broth
(2) 14 oz. cans stewed tomatoes, chopped with liquid
1 cup medium salsa
2 T. dried cilantro
1 T. ground cumin
Toppings: crunchy tortilla strips, avocado, sour cream, shredded cheese
Combine chicken, garlic, broth, tomatoes, salsa, cilantro, and cumin in a large slow cooker. Cover and cook on high heat 4-6 hours or low heat 8-10 hours. Serve with toppings.
Guacamole
4 medium very ripe avocados
1/2 small onion
Several drops of hot pepper sauce
About 1/4 bunch cilantro
1 T. lime juice
3 gloves garlic, minced
1/4 tsp. salt
Combine all ingredients in food processor or salsa maker.
I'm thinking of entering one or both of these in the Mini Chef Video Contest.
Starting November 14th, Avocados from Mexico is hosting a video contest for parents of children ages 5-15.
All you need to do is submit a 1-3 minute video of your child/children preparing an avocado dish and have them include why they love avocados and the catchy Avocados from Mexico jingle found on their website.
ONE grand prize winner gets $1,000 in cash plus an HD Camcorder, a Nintendo 3D, 2 games and a personalized Mini Chef jacket.
NINE runners up win an HD Camcorder, a Nintendo 3D, and a personalized Mini Chef Jacket.
Videos must be entered by December 4th and finalists will be announced on December 6th. Public voting will take place on YouTube December 6-11.
All winners will be announced December 12.
What avocado recipes do you like? I'd love to discover new ones to try out!!!