One of my favorite things as a child was Saturday morning breakfasts – particularly pancakes.
Monday-Friday my mom would make us breakfast, which was great. But on Saturday mornings,
my dad took over the kitchen.
Dads have a way of making things even more fun. One thing that my siblings and I loved is when he would make our initials out of pancakes. (So I would have a "T" pancake).
It was awesome! When we visit my parents, Grandpa makes them for my kids and they are a huge hit with them as well.
When I think of pancakes I have warm, fuzzy feelings. So it might surprise you to know that I didn't really like pancakes.
I tried them out and LOVED them!
Seriously, they are the absolute BEST pancakes I have ever tasted. They are light and fluffy and just heaven in your mouth.
This has become my family's pancake recipe and over the past two years, we have thoroughly enjoyed them.
One crucial step I have discovered is when you add the dry ingredients to the wet ingredients,
it is very important to only mix until moistened
!!! If you overmix the batter, your pancakes will tend to be flat and heavy.
So you want your batter to look lumpy.
Then when you pour them on your griddle (I like to heat mine to 350 degrees), pour less than you think you should. These puppies expand.
Proof of the lightness and fluffiness!
This recipe makes a lot. Sometimes I half it, but if I want leftovers to have a quick breakfast for my kids on school days I'll make the whole batch.
I'll usually make about a dozen regular, then I'll add fresh blueberries to the rest of the batter.
(Fresh blueberries is a must. Trust me, I've tried frozen and the results are not good).
These are my husband's absolute favorite breakfast! He asks for them all the time. If he sees fresh blueberries in the fridge, he gives me the biggest smile because he knows what's coming.
A decadent stack of yumminess!!!
Once I made this recipe over a year ago, there has been no turning back. I won't eat any other kind of syrup. This one is just too good!
Sometimes if I'm feeling extra nice, I'll throw in some mini chocolate chips to make my kids chocolate chip pancakes. I'm super mom after that!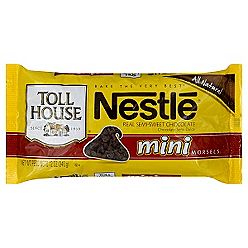 So if you are looking for a truly DELICIOUS breakfast, look no further than these pancakes.
Enjoy!